Music - Curriculum Information
Curriculum Intent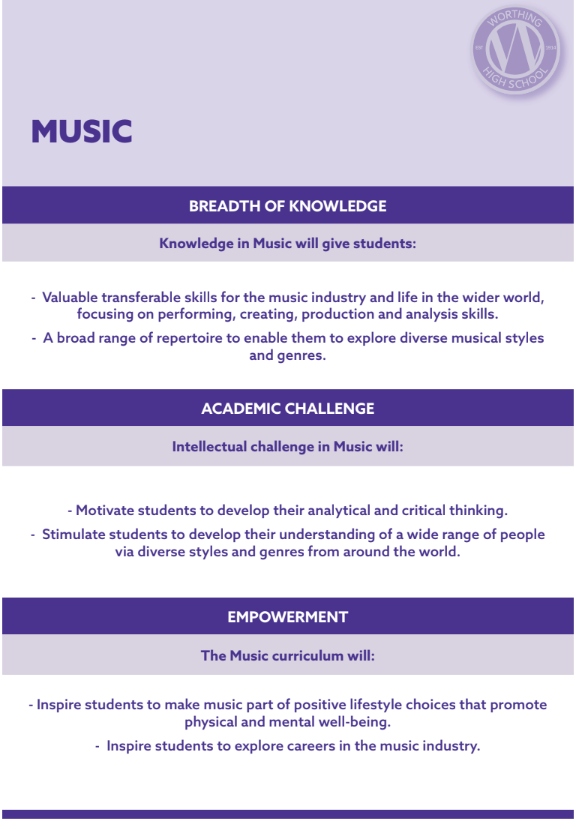 Curriculum Sequencing
Term 1

Term 2

Term 3

Term 4

Term 5

Term 6

Year 7

Vocal Skills – Singing in unison, parts and in ensembles

Ukulele Skills – Performing using chords C F Am and G7.

Keyboard and Notation Reading Skills – Performing and composing melodies

Year 8

C19th Programme Music Listening and Composing Skills

Reggae – Performing and composing using chords and Syncopation.

4 Chord songs progressions- Composing using chord progressions

Year 9

Music for Video Games – Music Technology skills

Britpop – Performing riffs and understanding structure

Ringtones – Music technology skills

Year 10

Component 1

Exploring Music Products and Styles

Preparation for

Assignment 1

Component 1

Exploring Music Products and Styles

Assignment 1 (36 Hours GLH)

Assignment 1 - Completion and submission.

Component 2 (36 hours GLH)Music Skills Development

Preparation for Assignment 2 A+B

Component 2 Music Skills Development

Assignment 2

A+B

Component 2 Music Skills Development

Assignment 2

A+B

Year 11

Component 3

Preparation for Responding to a Commercial Music Brief

Component 3 Responding to a Commercial Music Brief

Component 3 Responding to a Commercial Music Brief

Component 3 Responding to a Commercial Music Brief (48 hours GLH)
Aims Music Department
To enable every child to enjoy music as a performer, listener or composer.
To show how people from diverse and cultures backgrounds use music to make sense of the world.
To develop key life skills such as problem solving, team work and using technology.
To encourage more people to take music further in life through study, career and as a hobby.
Departmental Staff
Subject Leader: Mr D Martin
Facilities
Two main teaching rooms well equipped with interactive whiteboards and PCs. And a suite of practice rooms. We have class sets of Ukuleles, Electronic keyboards, Djembes, Electric Guitars and multiple drum kits.
Our Philosophy
The Music department is an inclusive one, giving opportunity and encouragement to all students who wish to develop their musical skills and understanding, regardless of the stage that they have reached in their music life.
Key Stage Three (Year 7-9)
Music has 1 lesson per fortnight in Year 7 & 8 and 9. The department follows a musical skills based curriculum exploring techniques in performance, composition and musical analysis. We prepare students for KS4 through exploring a selection of topics from exam board specifications.
KS4 (Year 10 and 11)
Music currently runs the BTEC Level 1/Level 2 Tech Award in Music Practice
The specification requires the candidates to explore diverse styles and genres through listening, composing and performing. It tracks the development of musical skills and understanding of musical theory through the building of a portfolio of rehearsal logs, recordings and evaluation (60%). The externally examined unit requires a cover version of a song to be created to a prescribed brief. (40%).
Additional Sessions
We have a busy extra-curricular programme with choral and instrumental groups of various types and sizes. Our typical performance diary includes:
Open evenings – Our students showcase their talents in various spaces around the school
Awards evening – A musical performance is an important part of the evening in which exam certificates are presented.
Worthing Sings Live – Our singers join with the other secondary schools across Worthing to perform songs together in a massed choir. This is a great opportunity to perform in Worthing's Assembly Hall.
Carols by Candlelight – Our Christmas celebration is a musical evening of traditional carols and readings.
School Show – An opportunity for all students to tread the boards part in a 'West End' style musical. Previous productions include: Little Shop of Horrors, Sound of Music, Dracula Spectacular, Guys and Dolls, Spotlight, Oliver and Daisy Pulls It Off.
The Big Sing – We work with West Sussex Music to celebrate National Sing Up Day. Students from our feeder schools join us for a fantastic morning of vocal workshops and performances.
Informal music sharing evenings – Working with BSharp Guitar school, we stage informal evenings in the drama studio in which students get the chance to perform to their families and friends.
S'Koolfest – Our rock bands and solo artists compete with their peers at the Pavilion Theatre in a 'Battle of the Bands' style evening hosted by Northbrook MET college.
Summer concert – An end of year celebration of work done in and out of the curriculum.
We offer a range of individual and group music tuition sessions. These lessons can take place during the school day however, some are before or after school. Currently we offer:
Keyboard – Mrs Butler mebutler57@gmail.com
Drum kit – Mr Thornley http://www.drumnut.co.uk/
Guitar – Mr Gladman http://www.bsharpguitarschool.co.uk/
Piano – West Sussex Music https://www.westsussexmusic.co.uk/page.cfm?title=home
Brass- West Sussex Music https://www.westsussexmusic.co.uk/page.cfm?title=home
Strings – West Sussex Music https://www.westsussexmusic.co.uk/page.cfm?title=home
Woodwind – West Sussex Music https://www.westsussexmusic.co.uk/page.cfm?title=home
Voice – West Sussex Music https://www.westsussexmusic.co.uk/page.cfm?title=home
Please contact the teacher/trust directly for further details of cost. or email Mr Martin dmartin@worthinghigh.net.
Revision Sessions
For Easter Revision Sessions, please see Exam Support and Timetables page - under Teaching & Learning.