Science - Curriculum Information
Curriculum Intent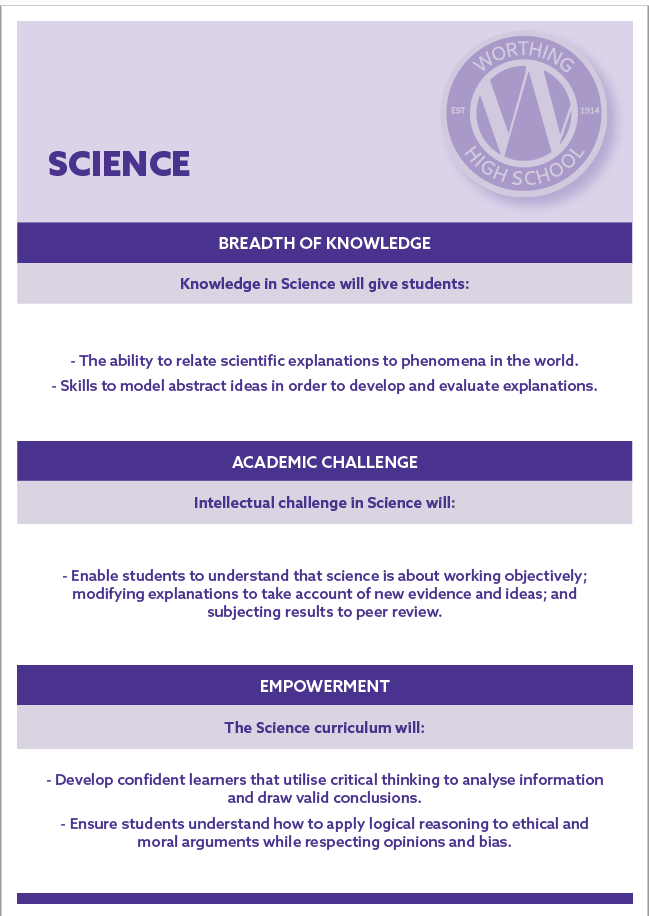 Information about the Science Department
Curriculum Sequencing
Term 1

Term 2

Term 3

Term 4

Term 5

Term 6

Year 7

Biology: Cells

Chemistry: Lab Safety and Atomic Structure

Physics: Forces

Biology: Respiratory System

Chemistry: Particle Model

Physics: Gravity

Pressure

Biology: Digestive System

Chemistry: Separation techniques

Physics: Speed

Biology: Movement

Chemistry: The Periodic Table

Physics: Energy

Biology: Reproduction

Chemistry:

Acids and Bases

Physics:

Energy Costs

Biology: Variation

Physics:

Heating and Cooling

Work

Year 8

Biology: Plant Reproduction

Chemistry: Types of Chemical Reactions

Physics: Wave Properties

Biology: Respiration

Chemistry: Chemical Energy

Physics: Light

Biology: Photosynthesis

Chemistry: Reactions of Metals and Non-Metals

Physics: Sound

Biology: Interdependence

Chemistry: Earth Structure

Physics: Current

Biology: Inheritance

Chemistry: Earth's Resources

Physics: Voltage and Resistance

Magnetism

Biology: Evolution

Chemistry: Climate

Physics: Universe

Year 9

Biology: Biology bridging course/Cell Biology

Chemistry: Chemistry bridging course/Atomic structure

Physics: Physics bridging course/Energy

Biology: Cell biology

Chemistry: Bonding and structure

Physics: Energy

Biology: Organisation A

Chemistry: Atomic structure

Physics: Energy

Biology: Organisation B

Chemistry: Bonding and structure

Physics: Particle model of matter

Biology: Organisation B

Chemistry: Quantitative Chemistry

Physics: Particle model of matter

Biology: Organisation B

Chemistry: Quantitative Chemistry

Physics: Particle model of matter

Exam technique (for all)

Year 10

Biology: Infection and response

Chemistry: Chemical changes

Physics: Atomic structure

Biology: Bioenergetics

Chemistry: Energy changes

Physics: Electricity

Biology: Bioenergetics/Homeostasis

Chemistry: Energy changes

Physics: electricity

Biology: Homeostasis

Chemistry: Rates of reaction

Physics: Electricity

Biology: Homeostasis B

Chemistry: rates of reaction

Physics: waves

Biology: Homeostasis B

Chemistry: Organic Chemistry

Physics: waves/forces

Year 11

Biology: inheritance

Chemistry: Chemical analysis

Physics: Forces and motion

Biology: Inheritance

Chemistry: Organic chemistry/chemistry of the atmosphere

Physics: Motion/magnetism

Biology: Ecology

Chemistry: Chemistry of the atmosphere/using resources

Physics: Magnetism/waves

Biology: Ecology

Chemistry: using resources

Physics: space/forces

Biology: revision

Chemistry: revision

Physics: revision

Biology: exams

Chemistry: exams

Physics: exams
Aims of the science department
To inspire students to take Science further to college and university.
To ensure all students develop sound practical skills.
To encourage students to enthusiastically explore and question the world around them.
To encourage every student to fulfil or exceed their potential in a supportive environment.
Departmental Staff
AHT Leader of Science – Mr T Izod
Second in Science, KS4 lead – Mr A Kent
KS3 lead – Miss T Miah
Ms H Schuler (PSHE Lead)
Ms S Green
Ms J Petrie (Year 11 Assistant progress leader)
Ms C Farrell
Mr S Swift (Deputy Headteacher)
Miss R Meachin
Mr N Robinson
Science Technicians – Mrs H Doyle, Miss R Spirovski
Facilities
7 specialist Science Laboratories
4 mobile fume cupboards
Department nature pond
2 Prep rooms
Our Philosophy
Anything can be achieved if you work hard, with enthusiasm and resilience. We aim to promote a keen interest in the Scientific world around us. Constantly question why and how?
KS3 (Year 7 & 8)
Students at KS3 are following modules of Biology, Chemistry and Physics. They will carry out practical work and will sit formative assessment, during the terms as well as summative topic tests at the end of each half term.
We run a popular Science club on Tuesday after school investigating and developing experimental techniques and extending students understanding and knowledge of Science. Students participating in Science club also work towards attaining CREST awards for Science (additional national qualification, see http://www.crestawards.org/ for more info).
KS4 (Year 10 and 11)
At KS4 all students will be completing the AQA triple (Biology, Chemistry and Physics) or combined trilogy GCSEs. The courses are graded by students taking 6 exams (2 of each discipline) at the end of year 11. 100% of the final grade is based on these exams.
Over the course of their GCSEs students will take a number of end of topic tests with mock exams being given at the end of year 10 and periodically over year 11.
For further information, please see the AQA website links below:
Combined Science Trilogy: http://www.aqa.org.uk/subjects/science/gcse/combined-science-trilogy-8464
Biology: http://www.aqa.org.uk/subjects/science/gcse/biology-8461
Chemistry: http://www.aqa.org.uk/subjects/science/gcse/chemistry-8462
Physics: http://www.aqa.org.uk/subjects/science/gcse/physics-8463
INDEPENDENT LEARNING
Students in year 7 and 8 will alternate their independent learning between completing a project for a half term or being set appropriate online activities on Educake.
Students in year 9 and 10 will be set a base level of independent learning on Educake and will be given additional activities where appropriate for revision and further development.
Students in year 11 will follow the Tassomai course designed to provide a differentiated individual guide through GSCE Science. In addition, class teachers will also set assignments where and when appropriate.
We expect all students in all years to spend time revising and preparing for exams. We will publish specific resources on google classrooms but other useful websites are:
BBC Bitesize: www.bbc.com/education/subjects/z7nygk7
For all sciences: https://www.physicsandmathstutor.com/
Save my exams: https://www.savemyexams.co.uk/gcse/#AQA