Maths - Curriculum Information
Curriculum Intent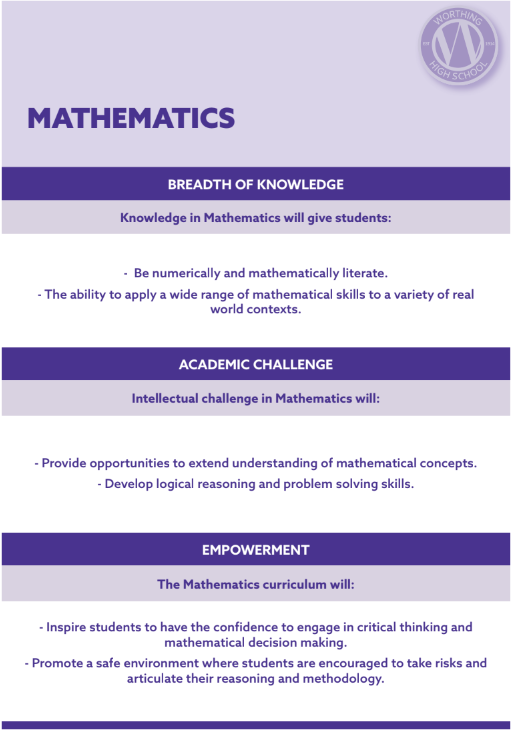 Curriculum Sequencing
Our Scheme of Work has been carefully sequenced to ensure all our pupils are given every opportunity to learn and succeed.
In KS3 (Years 7 to 9) we give all our students the opportunity to develop fluency and depth of understanding. We focus on learning, not on pace, aiming for pupils to develop a good foundation for their GCSEs.
In Years 10 to 11, we differentiate between the Higher and Foundation schemes of work, preparing all our pupils for their final exams. We are currently working towards Our students currently sit the AQA exam board.
Our most able students also have the opportunity to study towards the Statistics GCSE. We are able to inter-weave topics, giving our students the ability to develop statistic and stochastic reasoning.
Click here for Curriculum Sequencing - Year 7
Click here for Curriculum Sequencing - Year 8
Click here for Curriculum Sequencing - Year 9
Click here for Curriculum Sequencing - Year 10
Aims of the maths department
To allow every student to reach their mathematical potential.

To show how maths relates to problems in the real world

To instil confidence in students to have a go at something, no matter how challenging.
To encourage more students to take maths further in their academic life
Departmental Staff
Ms G Carswell – Leader of Mathematics
Mr D Salter – Deputy Leader of Maths
Ms A Chaplain - Teacher of Maths
Ms R Darling - Teacher of Maths
Ms A Fallahi - Teacher of Maths
Ms E Kundishora - Teacher of Maths
Ms S Ozdemirciler - Teacher of Maths
Facilities
A suite of 5 dedicated maths classrooms, all equipped with CleverTouch Screens and desktops PCs.

Y11 classes are timetabled into IT rooms on a regular basis. Other year groups can book IT rooms.
Our Philosophy
Our successful Mathematics department follows a 3-year key stage 3 and a 2-year key stage 4 scheme of work. This curriculum supports and nurtures
Development of key skills at KS3 and builds on that foundation at GCSE level. Maths has 8 lessons per fortnight in all year groups.
We make extensive use of formative assessment to help us to identify strengths and areas for improvement, as well as giving us an indication of the current level of performance in relation to the whole tier. In this way, our pupils use "trackers" to monitor their own progress, and gain an indication of their current performance and likely final grade.
We currently prepare students for:
GCSE mathematics (AQA)
GCSE Statistics (AQA)
Further mathematics (AQA)
The specialist mathematics teachers within our team, are based in our fully-resourced mathematics teaching suite. Within the department, we have specialist staff responsible for our most able students and KS2 to KS3 transition. We also have regular and successful entries for the UKMT challenges as well as popular after-school clubs. Maths also takes part in STEM activities.
Our learning and teaching ethos and culture reflect our collaborative approach. As a department, we constantly seek to improve our own understanding of high-quality teaching and learning.
Additional Sessions
Period 6 – Further Maths (Y11 only) – Tuesday in M5
Period 6 – GCSE Revision (Y11 only) – Tuesday in M1 & M2