School Uniform & Equipment
Worthing High School has a formal uniform policy that all students must adhere to.
A copy of our policy for all students is available as a download at the bottom of this page along with an SWI Order Form including prices.
There is also a copy of Essential Equipment needed by students.
Branded items of our uniform are available to order on line, by phone or by post from SWI Schoolwear. The SWI parent login page can be accessed by clicking the following link:
www.swischoolwear.co.uk/parentguide or by post/phone using the order form below.
Parents will need to register first by going to the home page and selecting Register. Please see the SWI order form below for a guide to sizes, prices, delivery and returns.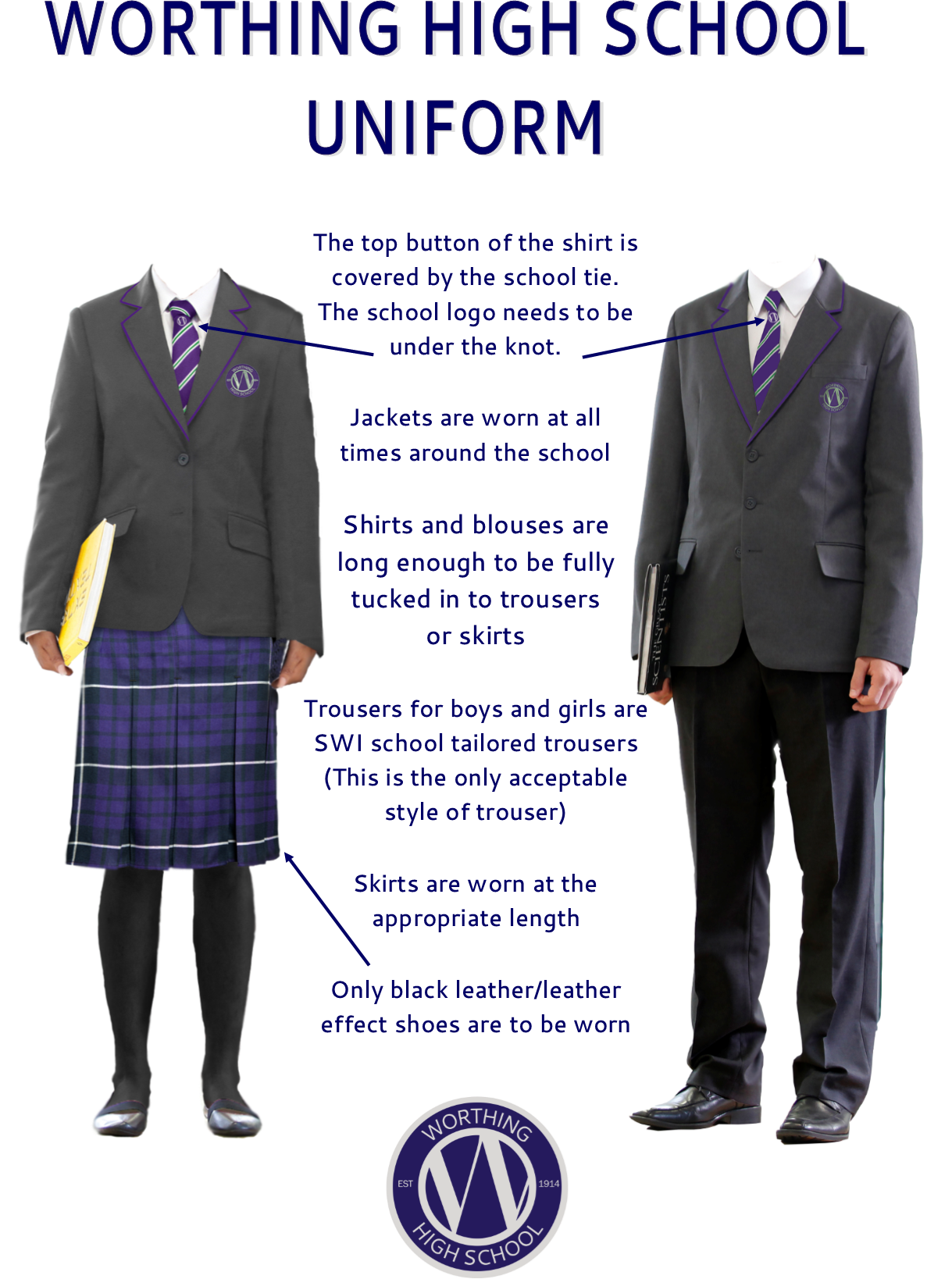 You are required to buy the following compulsory items from our uniform provider SWI:
Worthing High School Jacket
SWI Black trousers and/or a school pleated skirt
Tie - with coloured stripe appropriate to the student's community, see below for community colour.
Performance polo shirt for PE - with school logo
Performance ¼ zip training top for PE - with school logo
Performance training shorts or skort for PE - with school logo
Coolmax PE socks
Optional items which can only be purchased from SWI but are not compulsory:

V neck jumper
A rugby shirt

Optional item which can be purchased from any outlet but is not compulsory

Performance training bottoms must be plain black and no logos
Other items listed in the policy can be purchased from SWI Schoolwear or from a shop of your choice.
Orders should be placed by 5.00 pm on a Monday for delivery to a home address on Wednesday or free to the school on Thursday.
Please click on the Parent Guide link below from SWI on how to order uniform and measure your child for sizing purposes.
www.swischoolwear.co.uk/parentguide
Community colours below