Performing Arts -Curriculum Information
Curriculum Intent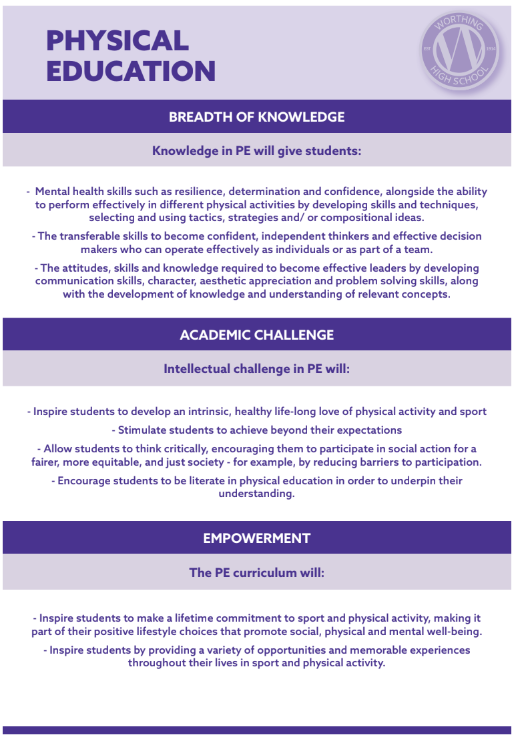 Curriculum Sequencing
Key stage 3 (Years 7-9)
Students follow a broad and well balanced curriculum in Key Stage 3 at Worthing High School. Pupils study a variety of different styles, professional practitioners and performance works. The focus is very much centred on the development of new and existing skills and the application of these skills in a performance context. Timetabled provision is 1 hour per fortnight with many clubs running before and after school all of which ensures each and every student is suitably prepared for continuing their skills and/or performance studies in Year 10 and 11.
Year 7
Development of the fundamental performing arts skills
Technical skills – Communication, Team work, Freeze Frames, RADS
Performance skills – confidence, knowledge of performance,
Professional works Exploration – Site specific
Year 8
Year 8 curriculum build on the year 7 performing arts curriculum
Development of the more complex performing arts skills
Technical skills – advanced RADS, posture, extension, movement memory
Performance skills – Projection, musicality, timing, energy, spatial awareness
Professional works – creating ideas in the style of a professional work
Key stage 4 (Years 10 – 11)
Currently, students opting to continue studying performing arts at key stage 4 are following the BTEC Tech Award (Level 2) in Performing Arts (Dance) qualification. This Award gives learners the opportunity to develop sector-specific knowledge and skills in a practical learning environment.
The main focus is on four areas of equal importance, which cover the:
• Development of key skills that prove your aptitude in Performing Arts such as reproducing repertoire or responding to stimuli
• Process that underpins effective ways of working in the Performing Arts, such as development of ideas, rehearsal and performance
• Attitudes that are considered most important in the Performing Arts, including personal management and communication
• Knowledge that underpins effective use of skills, process and attitudes in the sector such as roles, responsibilities, performance disciplines and styles.
Please follow the link below for further information:
https://qualifications.pearson.com/en/qualifications/btec-tech-awards/performing-arts.html
Year 10
Development of advanced performing arts skills
Technique workshops in three styles of dance
Component 1 – Exploring the Performing Arts industry
Professional works exploration in the style of 3 choreographers
Performance opportunity at Worthing College
Year 11
Choreography development
Component 2 – Developing skills and techniques in the Performing Arts Industry
Component 3 – Performing to a brief
Performance opportunity at Worthing Pavilion
Aims of the Performing Arts Department
To introduce students to a variety of dance styles, professional practitioners and performance works
To develop learners who are passionate, imaginative and inquisitive, who see the world from an artistic perspective, enjoying and exploring past and present art forms
To contribute to the curricula of other subjects
To offer Performing arts as an option to key stage 4 students
To encourage enjoyment and success in performing arts activities to promote participation in extra-curricular and outside of school
Departmental Staff
Miss A Strudwick – Leader of Dance & Performing Arts Coordinator
Mrs J Batchelor – Leader of Drama
Facilities
Dance Studio
Millennium Hall
Drama Studio
Our Philosophy
We have an inclusivity policy at the heart of the performing arts programme at Worthing High School. We aim to give opportunity and encouragement to all who wish to develop their performing arts skills and understanding regardless of previous experience and believe that anything can be achieved if you work hard, with enthusiasm and resilience.
Additional Sessions
Period 6 and weekly revision sessions – please speak with the Subject Leader.
For Easter Revision Sessions, please see relevant link on the website under Teaching & Learning >> Exam Support.