PE - Curriculum Information
Curriculum Intent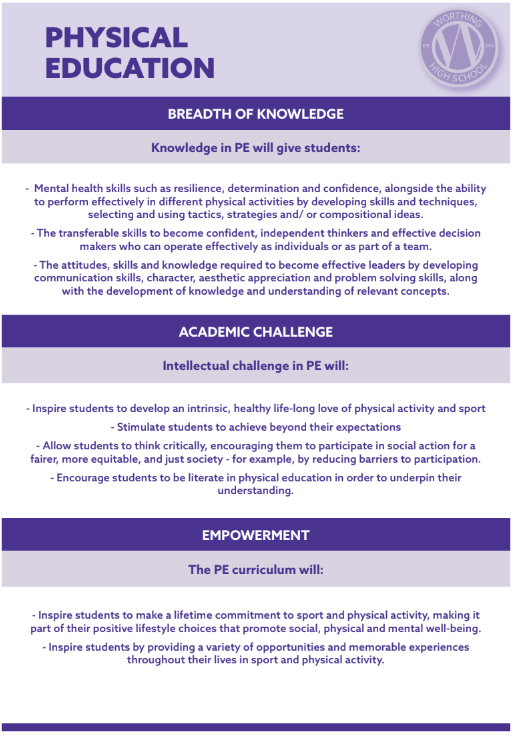 Curriculum Sequencing
Curriculum sequencing
Year 7
In Year 7 students build on and embed the physical development and skills learnt in KS1 and KS2. Students discover and explore a range of sports and physical activities. Through this, they are taught the basic skills required to participate, succeed and become more competent, confident and expert in their techniques, and apply them across different team and individual activities.
Year 8
In Year 8 lessons are skill based, students spend time consolidating and mastering skills learnt in Year 7. Students continue to develop their fitness, techniques and skills and apply them correctly to improve their performances in a broad range of team and individual activities.
Year 9
In Year 9 lessons have a greater emphasis on strategies and tactics. Students look at how to overcome opponents through initiative and making decisions about what to do to improve performance in direct competition through team and individual games and or other physical activities. Students start to identify the type of activity they prefer to be involved in, and to take a variety of roles such as leader and official.
All students take part in two different sporting activities every half term, totalling 12 over the academic year. Students study a variety of sports, Health Related Fitness (HRF) and aesthetic activities which include: Athletics, Rounders, Cricket, Rugby, Fitness, Gymnastics, Dance, Basketball, Badminton, Table Tennis, Tennis, Netball, Handball, Volleyball and Football.
Assessment:
Practical assessment: Students are assessed practically on a scale of 1-10 for 2 activities each half term.
Theory assessment: Every half term students are taught theory content that will build their knowledge base in preparation for further study in the subject. The topics studies include the muscular system, skeletal system, respiratory system and cardiovascular system. A range of other physiological, psychological and sociological aspects of sports performance are also studied.
Students have several weeks to revise using SAM Learning. During assessment week they complete an online theory assessment set on Show My Homework.
Year 10-11 Core PE
Students select their own groups during lesson 1 of Year 10 and 11. Students and staff allow movement during the academic year where required. Students have the option of a competitive group, leadership, aesthetic or Fit4Life group.
All students follow two activities every half term. Students who are following the GCSE specification are placed in the competitive groups and complete the sports/activities on the GCSE specification.
Examination subjects offered to students going in to KS4 currently include:
GCSE PE (OCR)

Please follow the link below for further information:

OCR National (Level 2) in Sports Studies

Please follow the link below for further information:

BTEC Tech Award (Level 2) in Performing Arts (Dance)

Please follow the link below for further information:
Each qualification has 5 lessons per fortnight in addition to the student's core PE time.
Aims of the PE Department
To introduce students to a broad and balanced range of physical activities.
To encourage enjoyment and success in activities to promote participation outside of school.
To develop the skill level of all students, recognising excellence, improvement and effort.
To encourage participation of students in the roles of performer, coach, administrator and official.
To support the pursuit of excellence through District, County, Regional and National selection.
To develop qualities of co-operation, tolerance, listening, empathy and understanding.
To encourage fair play and integrity in all competitive situations.
Departmental Staff
Miss. M Field – Subject Leader
Miss. A. Strudwick – Leader of Dance & Performing Arts Coordinator
Ms J Phillips - PE Teacher
Mr. R Morris – Progress Leader & Teacher of PE
Mr. C Long - Teacher of PE
Mr. S Townsend – Progress Leader & Teacher of PE
Mr. N Mariosa – Senior Assistant Headteacher & Teacher of PE
Facilities
Floodlit 3G Astroturf
4 tennis courts
3 netball courts
Large multi-use sports hall
MUGA
Playing field
Dance studio (February 2019)
A well-equipped Health and Fitness Suite (February 2019)
Our Philosophy
We have a "sport for all" policy at the heart of the sports programme at Worthing High School. We believe that sport and physical activity have a positive influence on students. We aim to develop every student's interest and enjoyment in sport and physical activity, from aspiring Olympians to those who perform as part of a healthy lifestyle.
Additional Sessions:
Period 6 and weekly revision sessions – please speak with the Subject Leader. For Easter Revision Sessions, please see relevant link on the website under Teaching & Learning >> Exam Support.
Revision Sessions
For Easter and half term Revision Sessions, please see Exam Support and Timetables page - under Teaching & Learning.