Memories of Worthing High for Boys
Peter Weller wrote in after seeing this photo of Worthing High School for Boys students in "Looking Back (October 30th 2015)" in the Worthing Herald.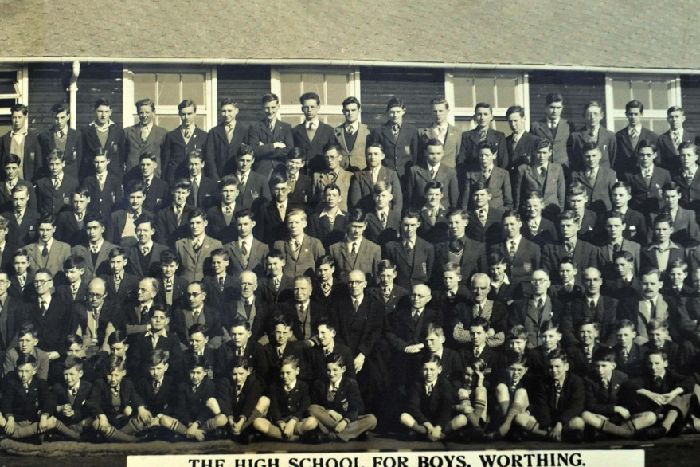 Peter, who now lives in Perth, Australia, was sent a copy of the paper by his sister-in-law.
He said: "Because of its clear definition, I was able to identify myself quite easily on the back row, second in from left.
"I attended the school from September, 1946 to July, 1950.
"Although it is difficult for me to identify fellow pupils, I can recognise most of the teaching staff, although a lot of their names now allude me.
"The Head, J.T.Turner succeeded Mr Martin.
"The school comprised of four 'Houses'. Angles, (red) Saxons, (dark blue) Jutes (orange) and Vikings (light blue).
"The house master of Jutes, to which I belonged, was Mr W Rees, who taught Latin.
"His deputy was Mr H.O. Anderson, of whom I had the highest regard.
"He took us for sport, or more precisely, rugby.
"During the cricket season, those of us who chose not to play went swimming off the beach, where the school had the use of a beach hut.
"Mr Gilpin, who I believe previously taught at St Andrew's School, in Clifton Road, took us for biology and some physics – a slightly built man but a crack shot with either chalk or blackboard rubber at whoever wasn't paying adequate attention.
"Mr Littlewood, mentioned in the article, was indeed the senior French master. He took me in my first year (Form 1G).
"My memory of him is quite clear. All staff wore gowns, but Mr Littlewood wore his very low off the shoulder, which, when he was striding forth across the 'quad' to class, forced him to be constantly hitching the thing up to where it was meant to be.
"I didn't rise to high academic heights, but my time at the school remains clearly in my mind as a platform for adult life which served me extremely well."