Media - Curriculum Information
Curriculum Intent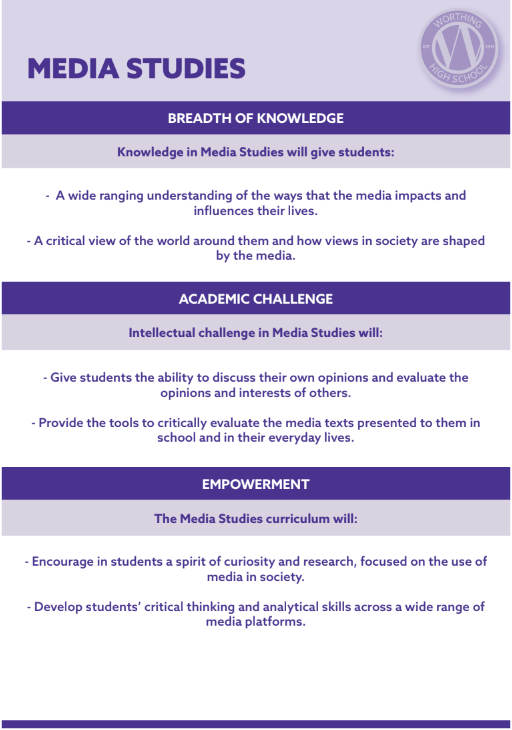 Curriculum Sequencing
Term 1

Term 2

Term 3

Term 4

Term 5

Term 6

Year 10

Introduction to Media:

Advertising (1:A)

Film Industry (1:B)

Bond film posters (1:A)

Magazines (A):

Music, Videos & Websites (2:B)

Situation Comedy (2:A)

Music, Videos & Websites (2:B)

Non-Examined Assessment

Non-Examined Assessment

Year 11

Television (2:A)

Contemporary artists

Television (2:A)

Historical video

News Industry

Newspaper Covers

Radio Industry

Revision and exam practise

Paper 1: Section A

Paper 1: Section B

Revision and exam practise

Paper 2: Section A

Paper 2: Section B

---
Aims of the Media Department
To develop skills of analysis and encourage curiosity about the wider world
To promote creativity and enable students to learn practical skills
To provide opportunities for teamwork, discussion and independent study
Departmental Staff
Ms N Hoad - Subject Leader Media
Ms H Davies
Facilities
Dedicated media classroom
Access to ICT suites and appropriate media software
Our Philosophy
We believe that students bring a wealth of relevant and current knowledge about the media world to their lessons and that this should be explored and developed. We want students to understand the influence that the media has on their lives and to investigate the impact it has on our society.
KS4 (Year 10 and 11)
Students taking GCSE Media Studies as one of their Options will have five lessons per fortnight. Their lessons will take place in a conventional classroom and they will have regular timetabled lessons in a computer room to allow them to use facilities suited to the Media industry.
Students will complete one Controlled Assessment that will be undertaken in the first 12 weeks of Year 11. The project will involve planning and creating a media text and will make up 30% of the student's overall grade.
Students will explore a range of media platforms, including Television, Web Design, Radio, Music Videos, Film Promotion and Print Magazines.
They will be expected to hone their skills of analysis and be able to explore the social and historical contexts of the media products.
Year 9 students will be invited to take part in the BBC School Report project and operate as young journalists for the day.

Year 10 will be invited on a 2-day residential exploring media industries in London.
Additional Sessions
Wednesday: NEA completion/revision
Revision Sessions
For Easter Revision Sessions, please see Exam Support and Timetables page - under Teaching & Learning.
Twitter @WorthingHighMed