MFL - Curriculum Information
Curriculum Intent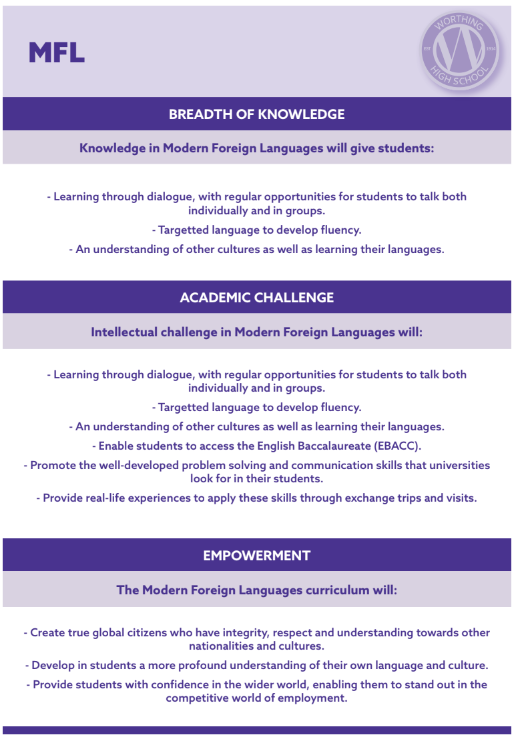 Aims of the MFL department
To enable all students to make maximum progress in their languages lessons whilst enjoying varied learning activities
To teach students to be responsible and independent learners
To provide students with literacy, study and thinking skills that help them across the curriculum
To enrich students' lives by providing them with the cultural aspects of the languages they are studying
Departmental Staff
Mr M. Beda - Assistant Headteacher / Subject Leader (French)

Ms K Nicholas - Deputy Leader of Modern Foreign Languages, Teacher of German and French

Mr. S. Ygon, Teacher of Spanish and French

Ms J Baptiste - Teacher of French and Spanish

Ms H Varley - Teacher of French and Spanish
Our Facilities
5 well resourced classrooms
Learning Resource Centre
Access to 4 modern ICT Suites
Our Philosophy
"Learning another language is not only learning different words for the same things, but learning another way to think about things." - Flora Lewis
Curriculum
KS3 (Year 7, 8 and 9)
At Key Stage 3 most students focus on studying one foreign language (currently French or Spanish). Top sets in Year 7, 8 and 9 both study French and German. Students cover a range of every day topics and practise their skills in listening, speaking, reading and writing and translation we use a variety of authentic learning resources, all of which prepare students for studying a language at GCSE and for using language in real-life situations.
KS4 (Year 10 and 11)
At Key Stage 4 students follow the AQA GCSE course. Over the two years the course covers the three themes of: Identity & Culture (Me, my family and friends; Technology in everyday life; Free-time activities; Customs and festivals in target language countries/communities); Local, national, international and global areas of interest (Home, town, neighbourhood & region; Social issues; Global Issues; Travel and tourism) and Current and future study and employment (My studies; Life at school/college; Education post-16; Jobs, career choices and ambitions)
Alongside the curriculum content, students continue to improve their skills in listening, speaking, reading and writing which are separately assessed skills with equal (25%) weighting. Speaking exams consist of describing a photo, conservation questions and a role-play.
Additional Sessions
Period 6 - Wednesdays
Revision Sessions
For Easter Revision Sessions, please see under Teaching & Learning, Exam Support.
The importance of languages in other subjects