English
The English department is a vibrant and creative team. Students will experience:
A challenging and engaging curriculum.
Support from experienced and highly qualified teaching staff, both inside and outside lessons.
A range of interesting and engrossing texts to enjoy.
A safe learning environment which fosters the needs of individual students.
Information about the English Department
Curriculum Vision
All students will become critical and enthusiastic readers and writers, confident verbal communicators and attentive listeners ready to fulfil their potential beyond Worthing High School.  
Curriculum Intent
Curriculum intent:
Our mixed ability classes in English encourage achievement for all, so that our students feel empowered to achieve their utmost potential.
We teach at a high level, exposing all students to challenging vocabulary and discussion of complex ideas. We then differentiate to ensure all students are able to access the work.

We provide students weekly independent extended writing practice, with a strong focus on developing resilience and the stamina required in the new exams. 

Every other week, students' extended writing practice is based around a recent topical issue, promoting an awareness of current affairs and encouraging them to be critical thinkers.

In each Year group, we read and study the same texts with each of our classes, openly discussing the human behaviours and issues which arise in the stories.

Our Key Stage 3 curriculum is mostly taught in themed units to provide a wider exposure of both fiction and non-fiction texts, both whole texts and extracts.
Our students often work in groups and regularly present information to the rest of their class, encouraging them to become confident articulate speakers.
Curriculum Overview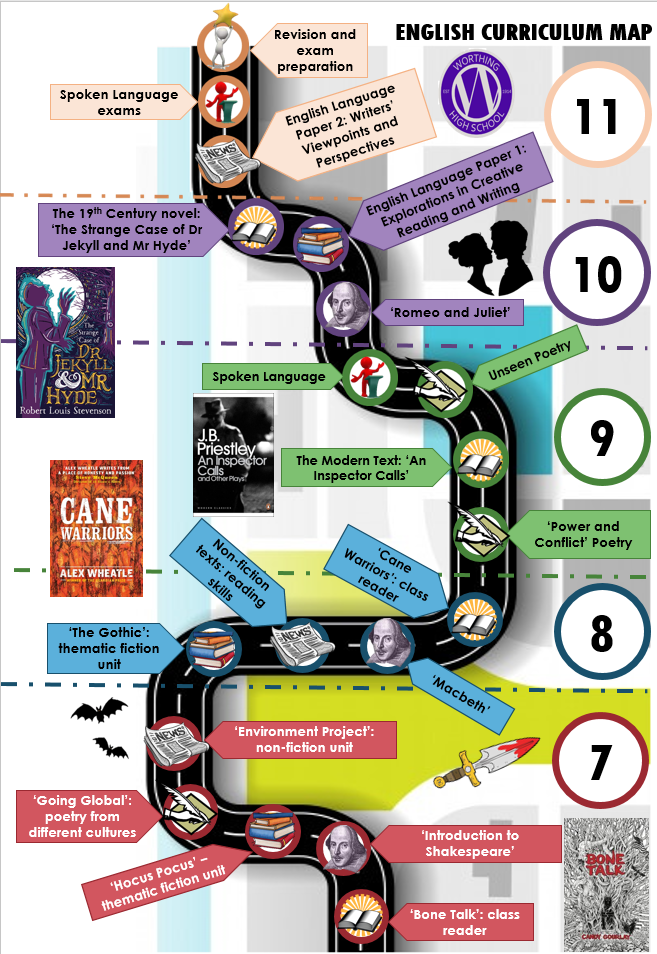 Aims of the English Department
To promote a love of English: reading, writing and spoken communication.
To nurture, support and challenge the skills of each individual student.
To encourage participation and recognise achievement.
To provide opportunities for teamwork, discussion and independent study.
Departmental Staff
Miss S Palmer: AHT Leader of English
Miss H Davies: Assistant Subject Leader of English
Mrs M Beckford: Literacy Across the Curriculum Co-ordinator and English Teacher
Miss N Hoad – Leader of Media Studies and English Teacher
Mr M Micaiah – Assistant Progress Leader for Year 11 and English Teacher
Miss S Golan – Pupil Premium Co-ordinator and English Teacher
Mrs L Wood – English Teacher
Ms G Wilks – English Teacher
Mr S Ghanbari – English Teacher and Media Studies Teacher
Ms G Scane – English Teacher
Miss O Ignat – English Teacher and MFL Teacher
Facilities
A well stocked Library LRC
Access to the Accelerated Reader scheme for all KS3 students
Access to a range of texts taught across the key stages.
Key Stage Three (Year 7-9)
Key Stage Three English is taught in eight lessons over two weeks, with students spending one of these lessons in the Learning Resource Centre. Students explore a range of texts and writing styles through thematic units which include: Gothic Monsters, Conflict, Going Global, Hocus Pocus, Crime and Punishment and Heritage.
KS4 (Year 10 and 11)
At Key Stage Four, all students follow the AQA GCSE in both Language and Literature. The course will be assessed by exam only - please see the English Curriculum document below for more details.
Additional Sessions
Period 6 - Tuesdays
Revision Sessions
For Easter Revision Sessions, please see Exam Support and Timetables page - under Teaching & Learning.