E-Safety
E Safety for students
Worthing High School E safety Information for students
Need Help?
There are lots of people who can help!
If something upsets you online or you are worried about a friend it can really help to talk to someone. There are lots of people who can help you. You should try to talk to an adult you trust if anything has upset you or made you feel uncomfortable whilst online.
Report Abuse email – As always you can email the school's safeguarding officers using the report abuse icon on your desktop or directly reportabuse@worthinghigh.net
Worthing High School Safeguarding officers are: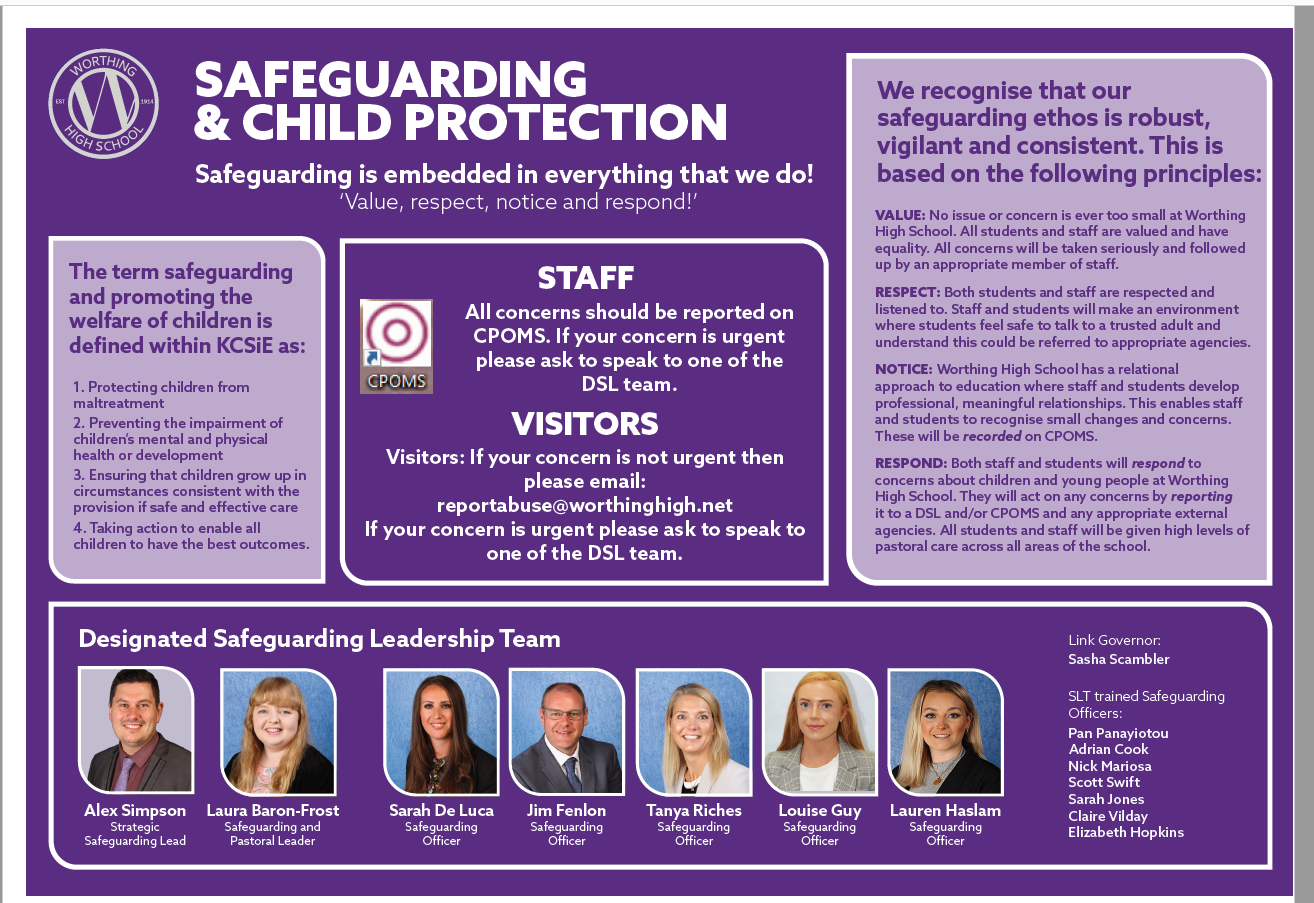 If you are worried about something that has happened to you or a friend online there are a number of organisations that can help.
Remember you can always visit ChildLine to chat to a counsellor online or call them on 0800 1111 if you ever need to talk to someone in confidence.
Is something breaking the law? Report it!
If you are worried about something that has happened to you online there are a number of organisations that can help.
Inappropriate contact: Adults who go online to chat to young people and arrange to meet up in order to cause them harm are breaking the law. If you have met someone online and conversations with that person are making you feel uncomfortable then tell an adult you trust or you can report it to the police.
Criminal content: If you stumble across criminal content online, you should report this to the Internet Watch Foundation (IWF). Unsure if it is criminal content? Visit the IWF website to find out what can be reported.
See Childnets Hot topics for more information on staying safe online.
If you would like to learn more and watch some eye opening videos on the dangers you may face online go to the new digizen website.
Remember, don't worry on your own, tell an adult and ask for help.
E Safety for parents
What can you do as a parent or carer to keep your child safe online?
Helping your child to stay safe online is just an extension of parenting in the real world. You need to understand what your child is doing and what the risks are so you can help them navigate a safe path through the virtual world.
The UK Council for Child Internet Safety has recently produced a guide for parents on keeping their children safe on line.
Childnet have created a Family Agreement- a great way to start a conversation with the whole family about the use of the internet.
Ideas to encourage young people to "Unplug from Technology" can be found on the Action for Children site.
Here are some top tips from the excellent ThinkUKnow website created by the Child Exploitation and Online Protection Centre (CEOP)
Be involved in your child's online life. For many of today's young people there is no line between the online and offline worlds. Young people use the internet to socialise and grow and, just as you guide and support them offline, you should be there for them online too. Talk to them about what they're doing, if they know you understand they are more likely to approach you if they need support.
Watch Thinkuknow films to learn more. The Thinkuknow programme has films and advice for children from five all the way to 16. Your child may have seen these at school, but they can also be a good tool for you to find out more about what young people do online and some of the potential risks.
Keep up-to-date with your child's development online. Be inquisitive and interested in the new gadgets and sites that your child is using. It's important that as your child learns more, so do you.
Set boundaries in the online world just as you would in the real world. Think about what they might see, what they share, who they talk to and how long they spend online. It is important to continue to discuss boundaries so that they evolve as your child's use of technology does.
Know what connects to the internet and how. Nowadays even the TV connects to the internet. Your child will use all sorts of devices and gadgets; make sure you're aware of which ones can connect to the internet, such as their phone or games console. Also, find out how they are accessing the internet – is it your connection or a neighbour's Wifi? This will affect whether your safety settings are being applied.
Consider the use of parental controls on devices that link to the internet, such as the TV, laptops, computers, games consoles and mobile phones. Parental controls are not just about locking and blocking, they are a tool to help you set appropriate boundaries as your child grows and develops. They are not the answer to your child's online safety, but they are a good start and are not as difficult to install as you might think. Service providers are working hard to make them simple, effective and user friendly. Here's a great step by step guide to setting up parental controls from InternetMattersOrg.
Emphasise that not everyone is who they say they are. Make sure your child knows never to meet up with someone they only know online. People might not always be who they say they are. Make sure your child understands that they should never meet up with anyone they only know online without taking a trusted adult with them.
Know what to do if something goes wrong. Just as in the offline world, you want to help your child when they need it. Therefore, it is important to know when and how to report any problem.
Below is a list of videos with comment that help to explore various e-safety issues
Cyber Essentials Certification
Worthing High School has recently gone through a process to gain a Cyber Essentials Certificate for our internal IT systems. Cyber Essentials is a Government-backed, industry-supported scheme to help organisations protect themselves against common online threats.

The benefits of Cyber Essentials certification
- Protect against approximately 80% of cyber attack
Implementing the five controls correctly will help you protect your organisation against the majority of cyber attacks, whether or not you achieve certification.
- Increase your chances of securing business
Demonstrate your commitment to protecting both your own data and that of your customers and suppliers. Cyber Essentials certification will help boost your reputation and give you a better chance of winning contracts. All Cyber Essentials-certified organisations are listed at www.cyberessentials.ncsc.gov.uk
- Work with the UK government and the MOD
You will need Cyber Essentials certification in order to bid for central government contracts that involve handling sensitive and personal information or providing certain technical products and services.
- Reduce cyber insurance premiums
Cyber insurance agencies often look more favourably on organisations that have achieved Cyber Essentials certification.