Bookings closed - Taster Mornings summer 19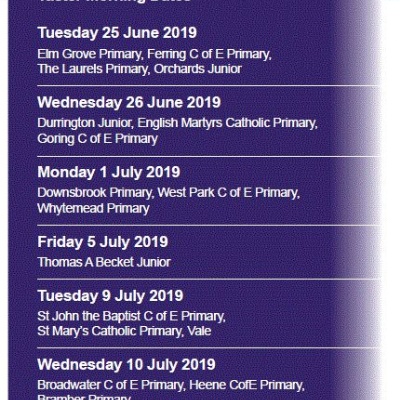 For all those students thinking of joining us in September 2020 - currently in Year 5
UPDATE 9.5.19
Registration for our Year 5 Taster Mornings closed on Wednesday 8 May at 3pm. We would like to thank all year 5 parents/carers who registered by 3pm on Wednesday 8 May for one of our Taster Mornings, letters will go out to you through your son/daughter's school mid-June advising you of their sessions.
Due to a significant interest we are unable to take any late registrations. If you would like to come and see our school please come along to our Open Evening on Thursday 26 September or one of our open mornings in October.
To avoid disappointment, please do not turn up on any of the Taster Morning sessions if you have not registered on surveymonkey before the 8 May as we will not be able to accommodate you or your child.
Choosing a secondary school is an important decision for you and your child.
To help, we run a variety of events across the school to assist your family decision making.
These include Taster Mornings for students current in Year 5 which are held every summer term.
Taster mornings provide an opportunity for parents/carers and prospective students to come and see what life is like at Worthing High School.
To ease the impact on our primary school colleagues - specific days are set aside for our main feeder schools. Please see the poster below for more information and details of how to book on a session.
If your school is not listed you are still more than welcome to attend - please call us or email lgrispino@worthinghigh.net