Young Food Writer Competition - deadline 30th April 2022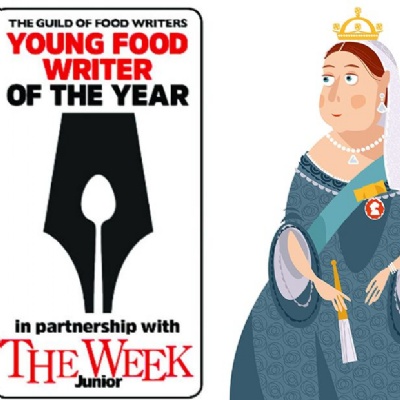 Are you a keen writer with a fascination for food? Then we've got the competition for you.
The Week Junior is hosting The Guild of Food Writers' Young Food Writer of the Year 2022 competition, sponsored by Sacla'. It began in 2008 and is the only national food writing competition that is aimed at children and young people up to the age of 18.
More information here and below:
https://theweekjunior.co.uk/foodfitforaqueen
How to enter
To be in with a chance of winning, write a short story or poem around the theme of "Food Fit for a Queen". You can explore the theme in any way you want. You could write about a tea party you are planning to celebrate the Queen's Platinum Jubilee this year, or imagine a meal with a real queen, a culinary queen or even a fictional queen like the Queen of Hearts from Alice in Wonderland.
For example, you could imagine dining with your favourite historical queen. What would it be like to have dinner with Queen Victoria or Elizabeth I? Would it be exciting or scary? What would their table manners be like, and what would be on the menu? This is a great opportunity to write about fancy foods, as well as unusual meals from the past.
The competition is divided into three different age categories, each with a different word limit:
10 and under – 250 words
11-14 – 500 words
15-18 – 750 words
The judges will choose a winner and a runner-up in each category, based on the stories' relevance to the theme, food content, structure, originality and use of language. Your story or poem needs to be written without the help of a parent. Please include the word count at the end of your story, and send your entry by email to competitions@theweekjunior.co.uk by 30 April 2022. All entries must include your name and age, as well as the address, email address and phone number of your parent or guardian. Good luck!
What you can win
An invitation to The Guild of Food Writers' tea party on 22 June where you'll have the chance to enjoy a chat with the judges before the Awards Ceremony (including an accompanying adult if you are under 18, or a guest if you are 18)
Recognition of your outstanding work will be featured at The Guild of Food Writers Awards Ceremony on 22 June and on the Guild's website
A £100 book token per category winner
You will have the opportunity to write a blog post for Sacla' to publish on their website and promote on social media
A certificate per category winner
A year's subscription to the Week Junior magazine for the winners of the two younger age categories (10 and under and 11-14) and your story featured in The Week Junior
The opportunity to visit The Week Junior's offices for the winners of the two younger age categories
For the 10 and under and 11-14 category winners: The winners' stories will be featured in The Week Junior, and you'll also win a year's subscription to The Week Junior.
For the 15-18 category winner: a visit to the offices of delicious. Magazine and their story will be featured on the magazine website
One runner up per age group will win a £25 book token
The Judges
Karen Barnes – Lead judge
Yotam Ottolenghi
Xanthe Clay
Stefan Gates
Sam Goldsmith
Kalpna Woolf
Tom Parker-Bowles
Vanessa Harriss
Ben Isaacs