Saturday 25th September 2021 Open Day & Open Mornings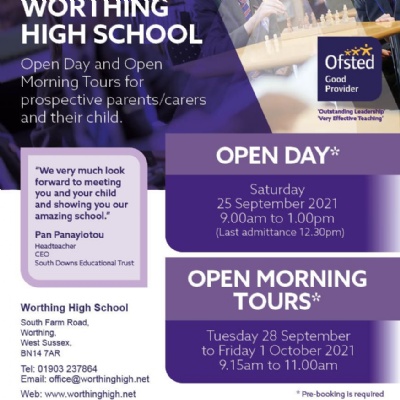 WORTHING HIGH OPEN MORNING – Saturday 25 September 2021
I would like to personally invite you and your family to join us for our annual Open Morning. This event will give you a great insight into students' learning opportunities at Worthing High School.
You will notice that the event is being held on a Saturday and that is a very conscious decision from very positive feedback we received from parents, who attended on a similar event last year.
The event will enable you to visit all our learning areas - with your own personal student tour guide and see all the fantastic facilities we have in the school. In addition, you can attend a talk from the Headteacher - these sessions are by ticket only.
Worthing High is a very popular, successful, oversubscribed school. The school is founded on strong Core values: Integrity, Community, Excellence, Respect and Resilience. All students in our school community have the right to learn and thrive in an environment which is calm, safe and secure. This ensures that all students reach their full potential.
The programme outlining events and performances will be given to you on arrival.
Student guides will direct you to your points of interest.
YOU DO NOT NEED TO BOOK TO JUST LOOK AROUND THE SCHOOL.
TICKETS ARE REQUIRED IF YOU WISH TO ATTEND ONE OF THE HEADTEACHER PRESENTATIONS
Due to the high demand to observe the Headteacher's presentation, we have provided three opportunities for parents/carers this year, they will be at 09:30am, 10:30am and 11:30am in the Millennium Hall where I will be joined by my Senior Leadership Team and students.
Please can you use Eventbrite to book your place for one of the three sessions.
For health and safety reasons, entry is only permitted to the presentation if you have registered for a ticket. Please note: booking will open at 11am on Thursday 16 September 2021.
The links for Eventbrite are below:
THE Headteacher's presentationS ARE NOW ALL FULLY BOOKED BUT YOU CAN STILL TOUR THE SCHOOL BETWEN 9-1PM AND MEET OUR AMAZING STUDENTS.
9:30am Headteacher's presentation 25 September 2021use this link - (FULLY BOOKED)
https://whsheadteachertalk0930am.eventbrite.co.uk
10:30am Headteacher's presentation 25 September 2021 use this link - (FULLY BOOKED)
https://whsheadteacherstalk1030am.eventbrite.co.uk
11:30 Headteachers presentation 25 September 2021 use this link - (FULLY BOOKED)
https://whsheadteacherstalk1130am.eventbrite.co.uk
Entrance is via our Main entrance in South Farm Road. The last admittance to the school will be at 12:30pm
You are also more than welcome to visit the school to see the students and staff at work during a normal school day. Our 2021 Open Mornings will be held on four occasions and we strongly urge early booking as we have limited spaces available. Tours will commence at 09.15 am as follows:-
You must book for each person wishing to attend the Open Morning.
ALL OPEN MORNINGS ARE NOW FULLY BOOKED - IF YOU ACCESS THE FOLLOWING LINKS YOU WILL BE ABLE TO JOIN THE WAITING LIST FOR EACH RESPECTIVE SESSION.
Tuesday 28 September https://whsopenmorning28september915am.eventbrite.co.uk
Wednesday 29 September https://whsopenmorning29september915am.eventbrite.co.uk
Thursday 30 September https://whsopenmorning30september915am.eventbrite.co.uk
Friday 1 October 2021 https://whsopenmorning1october915am.eventbrite.co.uk
To attend you will need to book on Eventbrite, links above, these will open at 11am on Thursday 16 September 2021
On behalf of myself and the students and staff at Worthing High School we very much look forward to meeting you.
Pan Panayiotou
Headteacher and CEO SDET
We are very keen to celebrate our schools achievements and we have created a short trailer that compliments "Millie's Day" that came out last year:
https://vimeo.com/604770655/58edaff146