Arrangements for Wednesday 23 July
Please find below a copy of an email sent to all parents and carers today.
Dear Parents and Carers
As promised, I write with an update for our end of term provision. We are pleased to confirm, that following consultation with Public Health England, we can proceed with our plans below,, for the final two days of term. However, due to the slightly higher numbers of positive cases, in year 9, we ask that all Year 9 students remain at home on Wednesday. Below is a summary of provision for all year groups. Please can I take this opportunity to remind students to complete their lateral flow tests and upload the results on Wednesday. If you choose to complete additional tests, you will not be able to upload the results but we ask that you do notify us of any positive test results by emailing covid19@worthinghigh.net
We thank you for your patience and understanding over the last couple of days and wish you a safe and restful summer break, when you get there.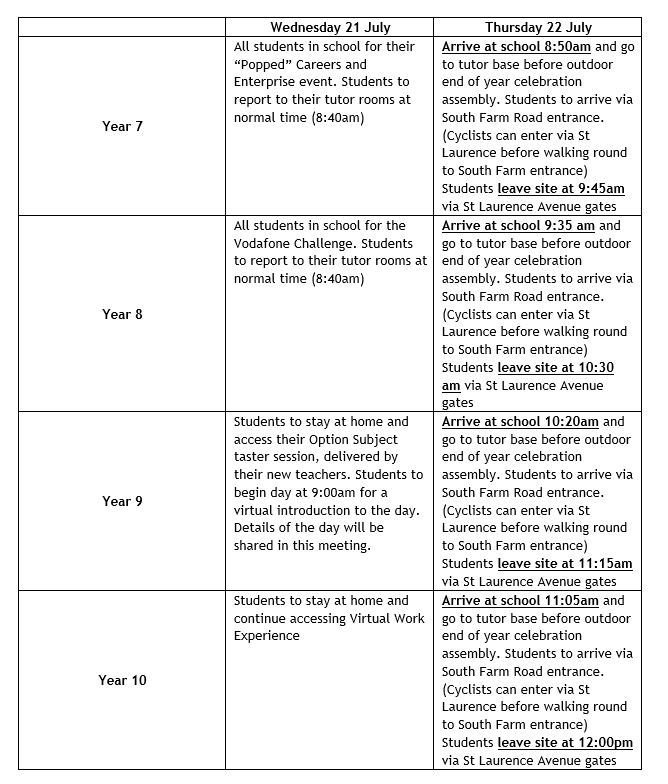 Please note, students, including Year 9's accessing work virtually, must wear full school uniform on both days.
Kind regards
Pan Panayiotou
Headteacher