Year 11 Final Week in school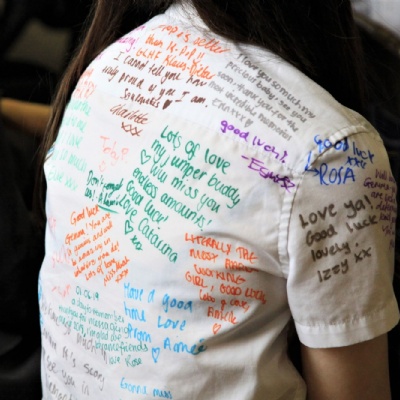 As you will be aware, the last day of school for our Year 11 students will be Friday 28 May.
Firstly, I would like to take this opportunity to thank them and their families for the tremendous resilience shown throughout the entirety of Key Stage 4; they are credit to you and the school. There are still some assessments next week and this really is the last push.
We urge all of our Year 11s to continue revising and working hard. We hope they can leave school feeling proud that they tried their best, given the most challenging of circumstances.
Leaving day arrangements – 28 May
On Friday 28th May, we will be saying goodbye and hosting a short celebration and a few surprises to mark the occasion. We ask that students come in full school uniform at the normal time and attend tutor as normal. Following this, all of the year 11's will attend their leaver's assembly and then have some refreshments and say their goodbyes, before they are dismissed at 10:50am.
Shirt Signing
A number of students would like to have their shirts signed by their teachers and peers as a memento of their time at WHS, so we have reserved the Millennium Hall for them on Thursday 27 May 2021 from 3:15pm. This will give staff the chance to see them and sign their shirts. We ask that students do not wear their signed shirt on the final day. They can, however, bring it back in to get it signed by their peers after the assembly.
Emptying lockers and collecting belongings
Please note that after the assembly, students will be dismissed and will not be able to go back in to school. We ask that they have emptied lockers and collected their belongings before the last day