Alex Scarrow visits Worthing High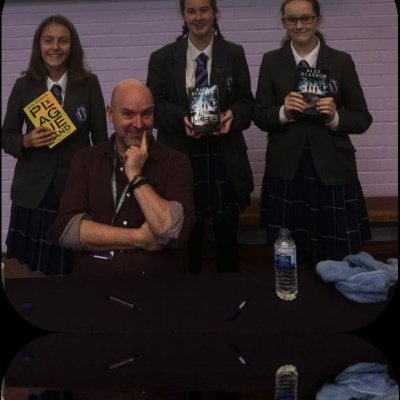 Worthing High was delighted to welcome Alex Scarrow to speak to Year 8 and 9 students recently.

This month we had the fantastic Alex Scarrow visit Worthing High School and were pleased to be joined by other secondary schools.
He talked about how he used to be a rock guitarist and tried for 10 years to get a record contract. He then spent 11 years in the gaming industry and got the students very animated with his discussion on this, his sound effects were very funny! His favourite gaming platform is Xbox, which caused much debate. He wrote his first book when he was 35 years old.
His series TIMERIDERS was inspired by some of his gaming ideas. He showed a presentation on the different characters in the book and told us how time travel could dramatically influence different aspects of our future. Those that hadn't read this series before were keen to buy the books or rush to the library afterwards to reserve a copy.
He then went on to talk about his new series REMADE, which was one of our own Amazing Book Award shortlisted reads. He said how he had always remembered a film his parents were watching when he was very young. It was a horror film and he was very shocked by seeing how a virus had melted a body until nothing was left but liquid. This became the basis for his books and he read us an extract from PLAGUELAND.
Alex mentioned that he was currently having a discussion about TIMERIDERS being made into a film and is possibly thinking of doing a spin off series of books.
It was a thoroughly entertaining talk and students were enthralled throughout. He had some very eager students queuing to chat to him afterwards and get their books signed.
Lia Smith - Student Librarian