11th Biennial Sponsored Walk - Update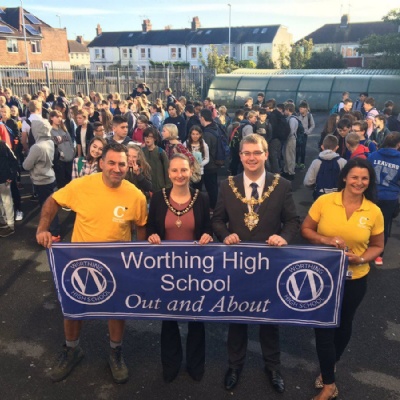 Our whole school biennial sponsored walk took place on Friday 27 September 2019
Sponsored Walk – Friday 27 September 2019 – In aid of Chestnut Tree House
On the 27 September, we held our 11th biennial sponsored walk in aid of Chestnut Tree House. We started our walks in 1999 and since then have raised and amazing £81,807.51 for Chestnut Tree House. We'd love to break through the £100k with this years walk so please sponsor our students and staff if you can.
Chestnut Tree House is the only children's hospice in Sussex, located near Arundel, and cares for the family as well as the child, providing advice, support and importantly a place where parents and siblings can also have quality time together. More information on the charity can be found on www.chestnut-tree-house.org.uk. By holding this walk we, as a school, are aiming to raise £15,000 for the hospice to use as it wishes towards its annual £3.9million running costs. This is an excellent opportunity for the school to make a difference to these children's lives and we therefore hope that the event will prove to be very successful.
Ways to pay Sponsorship Money
ONLINE WISEPAY - A sponsorship form can be completed (attached below) and money collected. This can then be paid to school via Wisepay rather than the student bringing in lots of cash.
Direct on Line – Sponsors can make payments direct to our Just Giving Page called www.justgiving.com/fundraising/whs-walk-2019
CASH – A sponsor form is included in this pack which can be completed and returned to school.